Customer Relationship
Management/Marketing
(CRM) System
The real estate and home building industry's online sales automation, Customer Relationship Management (CRM), and contact/eLead management system. Designed from the ground up specifically for the building and real estate industry, Builder Consulting CRM provides superior functionality, performance and ease-of-use make it the CRM system of choice for real estate professionals and builders nationwide.
The CRM software enables easy online management of the sales process from the time the prospect visits a website, or walks into the sales center, to follow-up and email marketing, meeting and task reminders, customer follow-up, easy email newsletters, dynamic contract generation, change order management and customer relationship management.
Unequaled Functionality Contact Management
Track & manage all contacts & leads
Capture eLeads directly from your website
Add offline leads online 24/7
Import and Export contacts to other systems
Follow-Up & Marketing
Improve follow-up communication using automated reminders and communications.
Automate email marketing & enhance your image with customizable professional HTML eNewsletter templates
COMING SOON - online flyers service for instant easy marketing flyers in PDF or HTML formats direct from MLS or load your own photos and text
Online Documents & Contract Management
Prevent mistakes & save time loading documents online for 24/7 access
Easily store change orders & contracts
Sales Force Automation & Reporting
Measure sales & marketing efforts with customizable reports & analytics
Track leads by type, location, and home details
Unmatched Performance
With unmatched performance and high scalability, the Builder Consulting CRM software for home builders and real estate is built on solid, cutting edge technology, working every minute of every day. Redundant off-site backups and solid secure firewalls protect the data and contacts.
Instant Integration
With comprehensive integration capabilities, Builder Consulting CRM may be integrated with your custom website or leading software applications, including Outlook, Timberline, NewHomeSource & Move.com.
Superior Ease-Of-Use
Builder Consulting CRM was built for the real estate and building industry for the real estate and building industry, so you can rest assured that this user-friendly CRM system contains intuitive navigation that easily assists users through the marketing, follow-up and home buying process.
Fast Deployment
A true Microsoft .NET application provides home builders and real estate professionals with a quick ROI. Fast deployment, low-cost of ownership, and no client/server software installations or downloads.
Screen Images & Examples for CRM Interface:
Overall Client List with Status, Assignments, Agent & Contact Dates
Each Client links to detailed pages of communication and history

Lead/Prospect Overview Page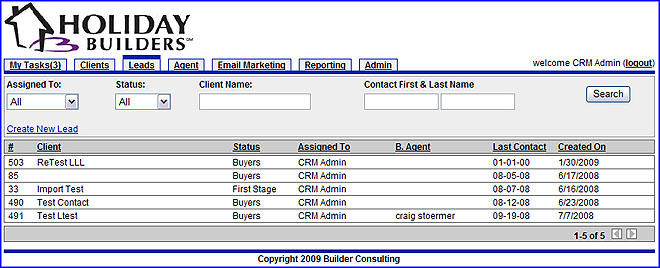 Lead/Prospect Details Page (links from Lead Name)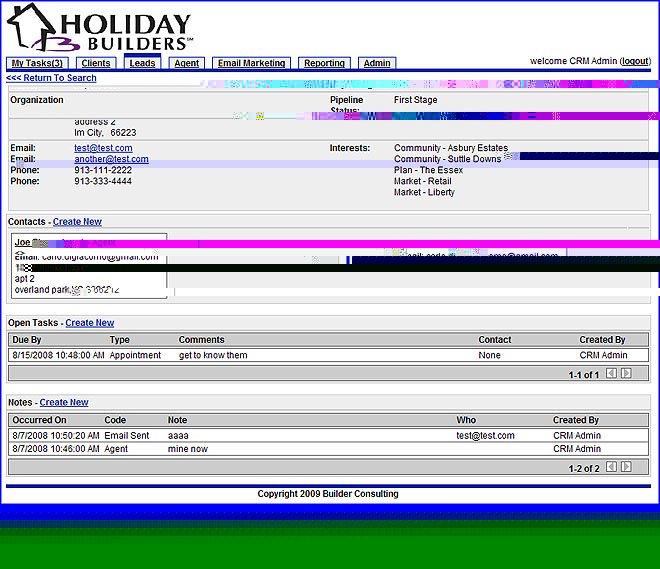 Real Estate Agent Contacts Page (primarily used to list Buyers Agents tied to leads)


Email Marketing & Email Newsletters for Clients, Leads & Agents